Xtreme Fun Rentals:

Giant Water Slide Rentals, Bounce Houses, & Super Fun Inflatables
"We Deliver the Fun!"
Built on the principle of providing intense amounts of party and event enjoyment for kids and adults alike, Extremely Fun Water Slides and Bounce House Rentals offers a huge selection of: fun waterslides, inflatable party rentals, bounce houses, dry slides, combo water slide bounce houses, zip lines, obstacle courses, tug of war ropes, and party supplies like a popcorn machine rental or snow cone machine rental. 
---
CLEANLINESS!
Our "Extreme Clean Team" ALWAYS Cleans and Sanitizes each inflatable after every rental, ensuring you will have a spic-and-span, spotless inflatable for your children to enjoy. During setup, we also take extra care and measures to preserve your lawn, and to keep the unit cleaner while your children are playing! We understand how critical this is, which is why we aim to provide the very best, well-maintained extreme inflatable water slides.
---
SAFETY FIRST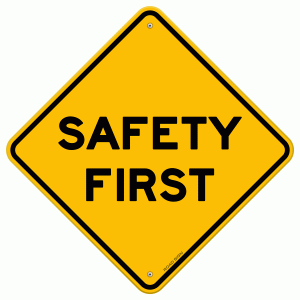 Safety is our primary concern to ensure an "Extremely Fun" and safe environment for your main priority – your children! 
Rent from Extremely Fun and know that your family, kids, clients or special guests are SAFE with our equipment. After all, safety is the most important ingredient to set the stage for lasting fun memories! Some of our safety measures include staking down each unit with commercial grade quality steel stakes and heavy-duty, durable tether straps to make sure your children are safe and secure while playing on our inflatables. In addition, we place carpeted pads at the entries and exits of our bounce houses, for added protection.
Our delivery Extreme Team will review a detailed checklist with you for the operational procedures of your inflatable to be sure you are completely informed, feel 100% comfortable, and are fully satisfied.
---
MADE IN THE USA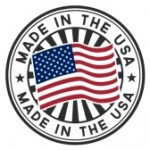 Extremely Fun proudly purchases all of our inflatables from US manufacturers.
We take a great deal of pride in product quality, safety, and performance which is why we use only the highest grade materials and inflatables.
Not only do we procure some of the largest bounce houses and wet/dry slides, we feature some of the hottest themes, often customizing our own creative designs that ultimately deliver extreme fun and entertainment for your next children's party or special event.
Extremely Fun jumps higher than the competition, investing in superior, high-quality, commercial grade vinyl and top-of-the-line equipment, ensuring some of the most durable and reliable inflatables made in America … and available in South Florida!
---
FREE DELIVERY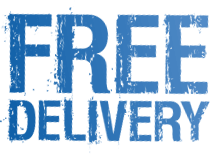 The Extreme Team delivers for FREE!
All of our prices include FREE Delivery, Setup, Breakdown and Pickup.
On the day before your party, you will receive a call from Dustin, our Field Manager, to confirm your delivery and setup time, based on his schedule and route, but we promise to arrive early, be setup and finished before the start time of your event! Then we will return and pack everything all up.
You don't have to worry about any of the delivery, setup, take down, or clean up. Just enjoy your party or event!
---
FULLY INSURED

We are Fully Insured! Don't worry… Have Fun! Your safety and enjoyment are our top priorities.
Some parks and public facilities require proof of insurance from vendors.
If you are planning a party at a park, be sure to ask if we are listed as one of their approved vendors. If not, that is okay too!
We are very experienced in the vendor approval process and will do everything we can to add your park to our list of approved venues.  We are always happy to provide proof of insurance.
---
OUR ULTIMATE GOAL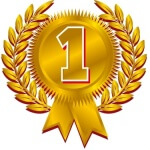 To deliver large quantities of fun and enjoyment to your special events through safe, immaculately maintained, inflatable bounce house rentals, water slide rentals, and South Florida party rentals.
To that end, we proudly offer the latest and hottest themes for every kind of event, and a huge selection of great options to choose from such as the largest Niagara Falls Water Slides in South Florida with its thrilling plummet of 40 feet or the Blue Crush Water Slide that has been a fan favorite ever since it came out!
We take a lot of pride in not only providing giant water slide rentals and small waters slides for rent, but hundreds of party rental options from jumpers to dunk tank rentals.
---
South Florida Water Slides
We have South Florida water slides covered.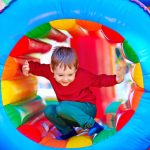 Look no further to find the right product for your party and rest assured that we will go the extra mile to make sure your event goes off without a hitch and leaves a wonderful impression that you can look back on fondly. Our extreme inflatable water slides are perfect for both children and adults! Whether you are looking for cool water slides for rent, extreme inflatable water slides, or giant water slide rentals in South Florida, we have the best large water slide rentals and an amazing selection of small water slides for rent.
We only offer fun waterslides that have received high reviews from our customers because we believe in the strong model of building our business around our clients rather than the other way around. In fact, many of our most popular extreme inflatable water slide rentals started as suggestions and requests from loyal clients who wanted a particular option for their next party. We take your input seriously and do our best to provide anything you need to make your event a massive win, which is why year after year we are voted #1 for the best South Florida water slides.
---
The Best Big Water Slides for Rent

The terms fun waterslide rentals and giant water slide rentals often go hand in hand, because in the water slide rental industry, bigger is often considered better.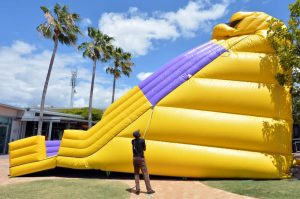 We understand this and work hard to constantly provide the next and biggest thing, such as when the blue crush water slide first came out and quickly became one of our all time most popular. So if you are looking for a giant water slide rental or large water slide rentals, then you have come to the right place because Extremely Fun believes strongly in extremely fun water slides, which means a huge selection to choose your giant water slide rental from.
We keep our prices extremely competitive so that when you are looking for a cheap water slide rental, you can still have a ton of great options of cool water slides for rent. After all there are two types of cheap.
The first definition of cheap refers to low quality and you will never find any of these in our inventory as we do not believe in lowering value in order to bring in more business.
In fact, our exceptional dedication to high quality is why our business has been so effective and is continuing to grow in leaps and bounds. From smaller water slides for rent to giant water slide rental options, Extremely Fun is sure to keep each product in great condition so that you have a great quality party rental for your event!
The second kind of cheap water slide rental refers to affordability and it is here to we are able to accommodate a wide range of budgets without sacrificing our high standards while providing fun waterslides to delight kids and adults alike. Simply browse our selection of water slide party rentals for such options as the blue crush water slide or if you have a lower budget just focus on the water slides for rent cheap knowing that you will be getting a top tier giant water slide rental without the giant cost.
---
Local Blow Up Water Slide Rental Near Me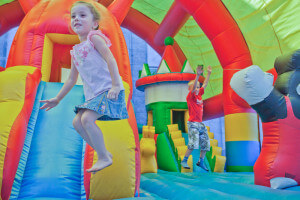 Extremely Fun has everything you need to stand out from the party crowd, and we make it simple to find a great local blow up water slide rental.
Water slide rentals in Broward have never been easier or more reliable and our loyal customer base in Palm Beach County will happily attest to our long standing reputation for providing top tier water slide rentals in Boca Raton, Delray Beach, Boynton Beach, and Wellington to name a few.
From Lake Worth down the coast to Fort Lauderdale there is no better source of water slides in South Florida than Extremely Fun, and our assortment of high end South Florida water slide rentals are guaranteed to exceed your expectations and provide your guests, kids and adults alike, with endless hours of entertaining outdoor fun and laughter as they splash and slide down from the heights.
We call them extremely fun water slides for a reason!
We chose the name Extremely Fun Waterslide and Bounce House Rentals because that is our commitment to our clients: Extreme Fun!
The results speak for themselves.
Our combination of inventory including exclusive water slide rentals and bounce house rentals, along with our commitment to customer satisfaction, equipment safety, and product cleanliness has earned us an award-winning reputation as a #1 provider for inflatable party rentals, blow up water slide rentals, bounce house rentals, and all other fun rentals in the following cities:
Boca Raton
Parkland
Wellington
Delray Beach
Boynton Beach
Lake Worth
Davie
Plantation
Cooper City
OUR TLC PROMISE TO YOU
---
THE EXTREME TEAM
Started in 2012 with critical help from four family friends, the Extreme Team has made it our mission to deliver safe, high-quality family entertainment backed by our trademark TLC.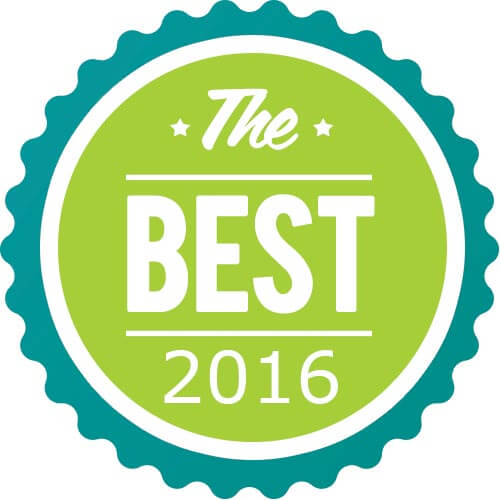 TLC  =  Timeliness  + Loyalty  +  Cleanliness
This means that we treat every event like it is our own and go the extra mile to make sure that each party is a massive success from start to finish.
Whether you are renting extreme inflatable water slides or bounce houses, combos or obstacle course, we have the top notch party rentals to make every occasion extra special and tons of fun. We truly strive to BE the best and HAVE the best waterslides available for you. When it comes to providing a number of great options, Extremely Fun has only the greatest!
Our secret is actually not so secret at all. It's all about being on time and efficient, showing our customers an intense level of loyalty that goes above and beyond, and ensuring that every piece of equipment we own and every rental we send out is super clean, sanitized, inspected for quality control, and guaranteed to operate safely.

Timeliness:  There is no such thing as being late. We pride ourselves on being early or perfectly on time to set up your special event and timely in handling your requests and concerns. That way you never have to stress about whether we are coming, if the setup will be completed on time, or any other concerns that you simply don't need on your plate with so much else to handle.
Loyalty: Our Extreme Team provides loyal, extremely friendly, dedicated service. Our combined 18 years of experience in customer satisfaction, setup and delivery means we're entirely focused on you and your experience. This level of experience combined with an ultra dedication to your experience gives us an edge over all the other event companies in South Florida, and it reflects in our customer's deep level of happiness with every rental from Extremely Fun. Once you rent once, you will never want to rent from anyone else again.
Cleanliness: As mentioned at the top of the page, cleanliness is our top priority along with performance, safety, and giant amounts of fun and enjoyment.