Looking for a Bounce House in Davie?

VOTED #1 Best Source of BOUNCE HOUSE PARTY RENTALS in Davie for 2018!

We treat every event like our own to ensure that everything goes perfectly.
Davie Bounce House Rentals
All of us here at Extremely Fun specialize in exceeding your highest expectations for quality and always keep the focus on the kids by ensuring that we maintain the cleanest, safest, and widest selection of ultra fun bounce houses, water slides, and other party rentals. There is no greater company to turn to for bounce house rental in Davie, FL other than Extremely Fun! Our service record is impeccable and we make completely sure that part of your party or event goes off without a hitch, freeing you up to focus on what's important… enjoying your guests and event.
Our Davie bounce house rentals focus on 5 key areas:
Bounce House Quality

: Here at Extremely Fun We Go the Extra Mile to Ensure that we ONLY Provide Davie Bounce Houses of the Highest Quality, Durability, Structural Integrity, and Design

Bounce House Safety

: All of Our Equipment is Rigorously Inspected Before and After Each Event to Ensure that it Exceeds the Standards for Top Grade Safety and High Quality Excellence

Bounce House Cleanliness

: Each Inflatable and Party Rental undergoes a Rigorous Cleaning, Disinfecting, and Scrubbing Process After Each Use to Ensure that it is Exceptionally Clean

Bounce House Selection

: Our Team Works Incredibly Hard to Ensure that We Have a Wide Array of Options and an Incredibly Large Selection of Davie Bounce Houses to Choose From

Bounce House Price

: Not Only Do We Take Pride on Our Price Point to Ensure that You Get the Highest Value For Your Dollar, But We Offer FREE Delivery in Addition to Set Up and Take Down.
Call 954-300-3357 for Pricing and Details or Browse the Bounce House Selection
---
Or just browse through all our party rentals and take a look at our various products and categories including inflatable water slide rentals and obstacle courses, ultra exciting zip lines, 3-in-1 all the way up to 7-in-1 waterslide and bounce house combos, various sizes of dry slides for when you don't want the water play, and various party supplies like snow cone machine rentals, popcorn machine rentals, cotton candy machine rentals, table and chair rentals, interactive games, tug of war ropes, and every type of custom party rental packages you could want or need to make your party perfect.
---
Some of Our Most Popular Davie Bounce House Options are:
15 FT DISNEY FROZEN 5-IN-1 DRY COMBO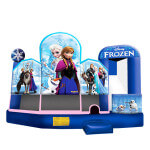 Your fearless, Frozen princess and friends will delight in this amazing world of frigid fun! With lots of space to romp around in a winter-themed wonderland, kids will endure pop-up obstacles and lob "snowballs" into a basketball hoop.
When they are ready to break free from the spell of the wintry kingdom, they can scale the North Mountain and "Let It Go" down the exit slide, slipping back to summer.
Parents and spectators love the clear view with the 360-degree mesh sides of this bouncer. Freeze memories in time with this special in South Florida Frozen bounce house 5-in-1 dry combo featuring one of our most popular themes!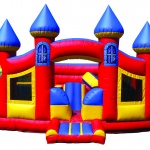 This deluxe toddler play castle is brand new and sure to be a big success with the young ones.
It has everything they want and will provide tons of exciting laughs and wonderful moments to capture in pictures as they make their way around the interior of the same padded castle having an absolute blast.
The interior is specially designed to provide different zones so that your young ones can move from area to area navigating the mini challenges and tackling each exciting adventure to emerge smiling and laughing into your arms begging to go again.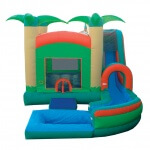 Aloha! Welcome to one of the best new 4 in 1 combos that is sure to delight in so many ways. Prepare for a tropical journey to fun land! The best of both worlds, this Aloha combo is a winner whether you want it wet or dry.
If you want the wet 4 in 1 you get a bouncer and a water course as with the pool attached kids can bounce, climb up the ladder and push off onto the sliding lane whipping around a 90° turn and splashing down into the pool.
This innovative Jump N Splash specialty has a beautiful tropical theme and our special heavy duty non-slip material on the entrance ramp and on the entire jumping mattress, virtually preventing kids from slipping.
17 FT 4-IN-1 ALL STAR ARENA COMBO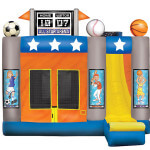 All stars of all ages put their athletic skills to the test in our 4-in-1 combo jumpers for rent.
How high can they jump in the 12' × 12' open bounce area? How well can they shoot and score in the basketball hoop?
Can they scale the ladder to reach the top of a 13', 50-degree incline and then slide into home like a winner?
This unit also includes a completely enclosed sun-screened mesh cage over the entire top and sides of the slide as both added sun shield and safety feature.
17 FT DISNEY PRINCESS 3D 5-IN-1 COMBO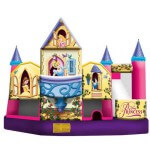 Disney Princesses bring a little magic to this 3D, 5-in-1 Disney bounce house rentals with its sweet 3D imagery.
Here classic princesses Belle, Snow White, Cinderella and Sleeping Beauty reign over their cavernous castle.
But don't underestimate their calm appearance! Inside maids and gents romp, bounce and jump off floors (and walls), playing basketball, dodging pop-up obstacles, hurdling log obstacles, climbing the ladder incline and plunging down the slide.
Princesses and princes alike will delight in Cinderella's realistic 3D balcony. The Disney Princesses enchanting fun to all who enter!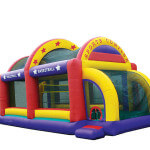 Do you have a star athlete in the making? A goal scorer, a powerful defender, a great volleyball player, or little basketball player with tons of heart and talent?
Even better, do you have kids who have tons of energy and the willingness to let loose and have fun in new and excitingly athletic ways?
For all the kids who like to play sports and have a great time, we give you the Extreme Sports Complex bounce party rental in Davie. Hit the game-winning bucket in basketball, score a goal in soccer or make a great spike in volleyball. Or just laugh, play, and have the time of your life.
A safety mesh surrounds the entire unit and the positioning of the entrances and exits on the front of the unit (and not behind each goal) for the ultimate parental approval!
VIEW ALL OUR BOUNCE HOUSES HERE
---
Davie Bounce House Party Rentals
South Florida bounce house rentals – set your upcoming party apart!
Do you have a child who is fascinated with bounce houses? If so, why not surprise him or her with the treat of a lifetime? Children are easy to please and love to jump and play with their friends all day long; to them, there is no better treat than seeing a colorful bounce house inflatable at their very own party. South Florida bounce house rentals are easy when you partner with the leaders in the inflatable rental industry, Extremely Fun. We have years of experience making sure your upcoming celebration is exciting, safe, and distinctive. When it comes to the best Davie bounce house rentals, Extremely Fun is #1!
Bounce house rentals offer an abundance of benefits. First, the obvious – they are thrilling and can keep children of all ages amused for the length of the party. Second, when you rent from us, you are receiving inflatable rentals that are designed to meet or exceed the strictest safety standards. We understand as a parent, you want to ensure the safety of every child who is a guest at your party. With solid craftsmanship, non-slip surfaces, mesh siding and more, you can rest assured your entire guest list is in good hands. Third, no matter your theme, number of guests or size of your yard or party area, we have a South Florida bounce house just waiting for you. Our massive inventory is filled with just about every type of theme, size and color you can imagine. Ask one of our experienced team members what would work well for your party vision! Last, parents love bounce house inflatables for their children's parties because it gives the parents an opportunity to enjoy the party, as the children are entertained for hours. Catch up with other parents and sit down to relax, as you watch the activities within the bounce house, thanks to mesh side areas.
---
Don't live in Davie or need a party rental in a different city?
We cover all of your South Florida bounce house needs, providing Palm Beach County bounce houses including Boca Raton bounce houses and Boynton Beach bounce houses, exciting Delray Beach Bounce Houses, cool Wellington bounce houses, Lake Worth bounce houses and West Palm Beach bounce houses, as well as all our Broward County bounce house services including Deerfield Beach bounce houses, local Pompano Beach bounce houses, delightful Coral Springs bounce houses, wonderful Sunrise bounce houses, high quality Tamarac bounce houses, sunny Lauderdale by the Sea bounce houses, thrilling Plantation bounce houses, Fort Lauderdale bounce houses, awesome Cooper City bounce houses, Parkland bounce houses, and so many more.
Don't need a bounce house? We also specialize in providing for all of your South Florida water slides needs, providing Broward County water slides services including Deerfield Beach water slides, Pompano Beach water slides, Coral Springs water slides, Sunrise water slides, Tamarac water slides, Lauderdale by the Sea water slides, Plantation water slides, Fort Lauderdale water slides, Davie water slides, Cooper City water slides, and Parkland water slides, as well as all Palm Beach County water slides including Boynton Beach water slides, Delray Beach Water slides, West Palm Beach water slides, Wellington water slides, Lake Worth water slides, and so many more.